Thank you for checking us out!
Houston's first pedicab company established in 2003, pedicab transportation and specialized branding. Explore and discover the opportunities and events we provide services to across the country, nationwide.
People enjoy taking pedicab rides with the company of their friends, family, and sweethearts. Smiles bigger than the state of Texas because pedicabs are unique and better yet, eco-friendly.
Check out the website and if you have any questions please get in touch.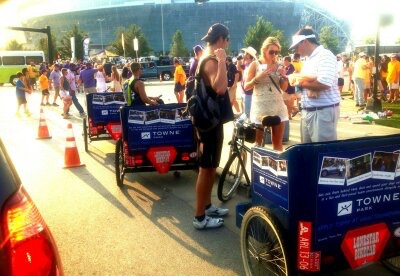 PEDICAB SERVICES INCLUDE:
FREE RIDE CAMPAIGNS

BRANDING CAMPAIGNS

PUB CRAWLS

WEDDING DEPARTURES

WEDDING TRAINS

PEDICAB TOURS
Why Stroll When You can Roll?
COMPANY HISTORY: After introducing pedicabs to downtown Houston in 2003, Lone Star BikeCAB continues to set the standards as Houston's largest fleet! Lone Star BikeCAB's premier pedicab company is nationally recognized and ranked high among their competitors in the industry. Pedicabs were invited by the Houston City Council, to provide alternative means of transportation for people attending the Houston 2003 Super Bowl parties downtown Houston and the Main Event, Super Bowl. The pedicabs work exclusive annual events, invited back year after year at the Nutcracker Market, River Oaks Tennis Tournament, and the Indianapolis Motor Speedway.  Lone Star BikeCab has earned a recognizable reputation in the Houston, and DFW area, making them the leaders in the pedicab industry.
In addition to providing consistent service to downtown various venues, the pedicabs participate in a variety of repeating annual events. 
EXCLUSIVE EVENTS
13 River Oaks Tennis Tournaments
5 years working the Indianapolis Motor Speedway